Sierra Nevada World Music Fest 2013
People often wonder why I speak so highly of the Sierra Nevada World Music Festival that his held yearly in Boonville California on the first weekend of the Summer Solstice. Then they question why I often make the pilgrimage of 3000 miles to attend. You only has to experience SNWMF one time and you will no longer wonder. Opening night, Friday was off the hook and an unbelievable way to start the SNWMF 2013 experience. I started with a huge helping of Prince Fatty at the controls with Horseman and Hollie Cook on the mic. Fattys own made dub plate riddims were just fat and wicked while Horsemans Toasting style was a throwback to a different time and what can you say about Hollie Cook? Her sweet voice with a sexy and bubbly stage personality just made you feel oh so good.
PRINCE FATTY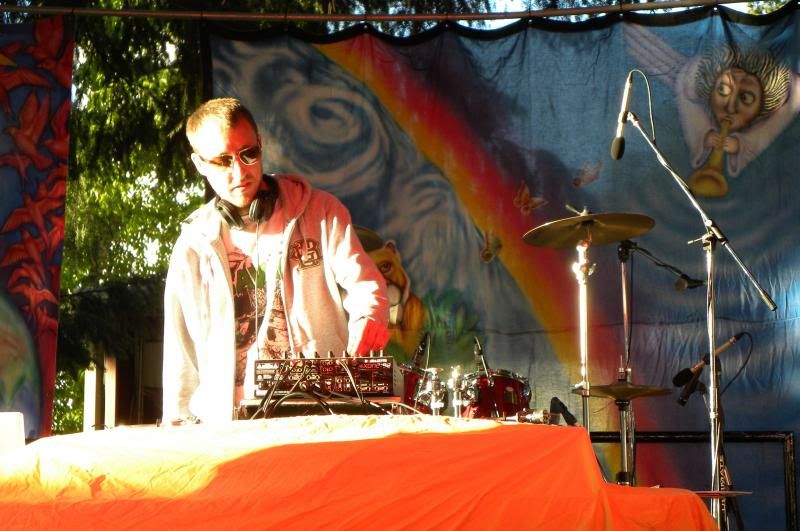 HORSEMAN
HOLLIE COOK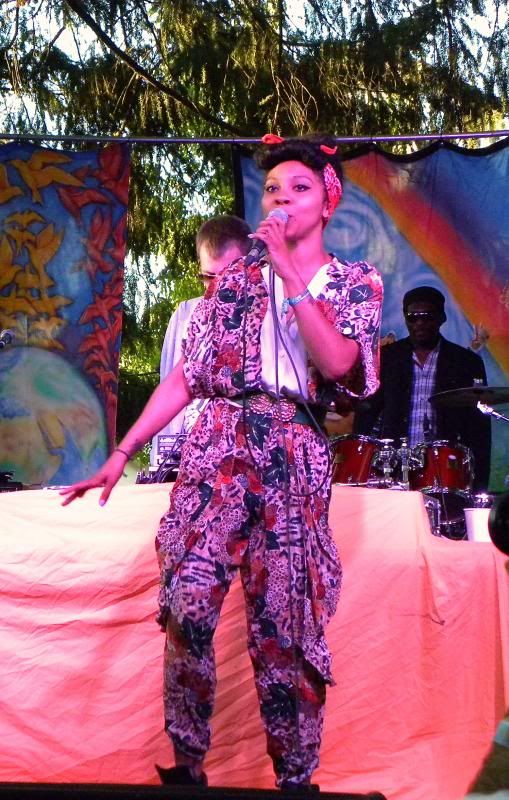 After the Fatty set my first conflict was coming up between seeing Groundation on the Valley stage or hanging around the Village stage for Sister Carol. I listened to my intuition after only checking 15 minutes of Groundation and went back to see Sister Carol and I am glad I did. She was in top notch form and much better than when I saw her last at SNWMF 2008
SISTER CAROL
Up next was Ras Michael and he and his band brought that special Rastafari vibe to the evening with their thunderous drums and chants
RAS MICHAEL
Up next was was one of my most anticipated acts of all time to see and that was listening to Jah Shaka drop his wicked Dub Selections. I am a fool for Dubs and versions and Jah Shaka brought both.
There seemed to be a sound problem or something in the beginning but after they worked it out Shaka dubbed and chanted the barn down. I can scratch another name off my reggae bucket list.
JAH SHAKA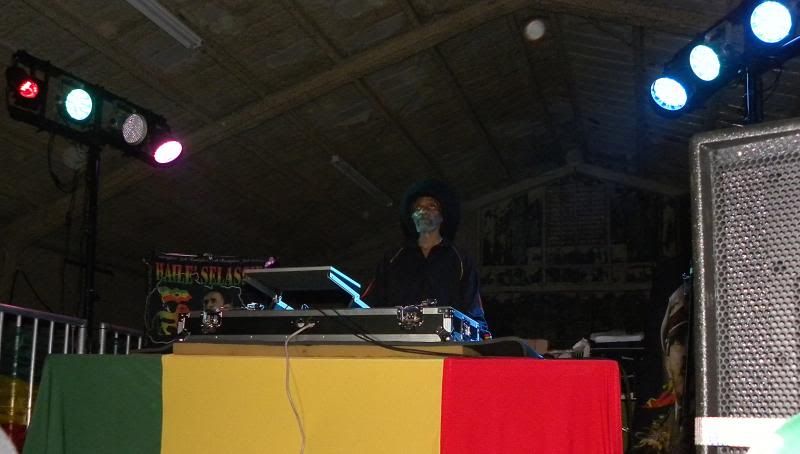 After only a few hours of sleep back in Ukiah My wife and I were back in Boomville by 11am Saturday morning and were treated to a Rasta session with our morning coffee by Iqulah what a spiritual way to start your day.
IQULAH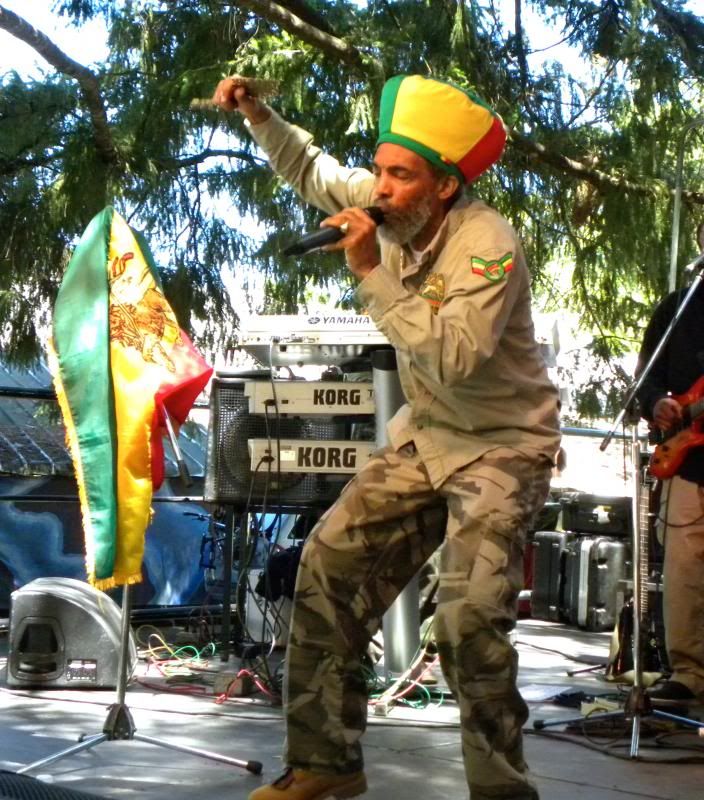 After Iqulah it was time to spend the rest of the Saturday reggae marathon at the Valley Stage with artists such as Cornell Campbell, Don Carlos, and Marcia Griffiths
CORNEL CAMPBELL
DON CARLOS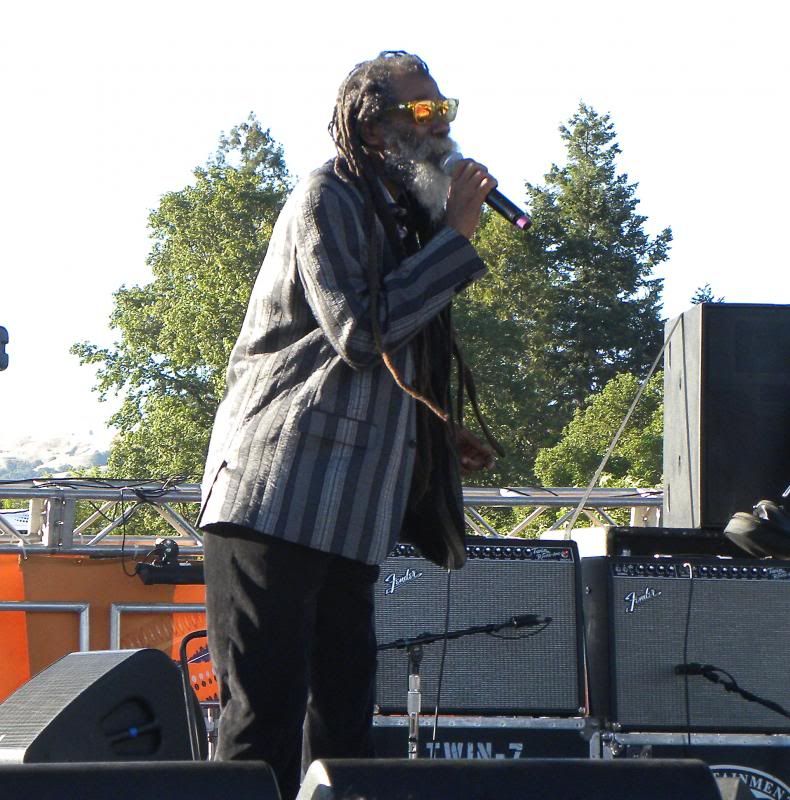 MARCIA GRIFFITHS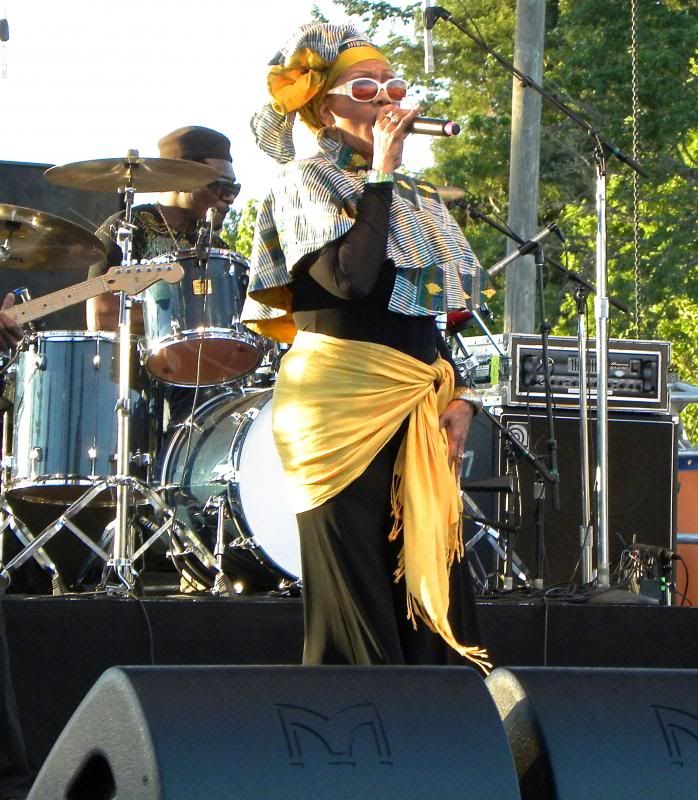 But My two top acts for Saturday afternoon were Luciano and Protoje. For being a fil in Luci brought the heat and energy that I have not seen from him in a long time. To me he was very humbled and honored to be filling in for URoy and wanted to do right by his elder
LUCIANO
I also was very excited to see Protoje as he is riding with the new wave of Conscious Rasta artists out of Jamaica. He is very cool, calm, and collected all the while having a certain special humble aura around him. His performance did not disappoint. He played all his hits and some in an even extended dub style. Just an awesome performance from an artist who is really still honing is craft
PROTOJE
Damian Marley & Stephen Marly along with their Ghetto Youths camp finished up Saturdays live music set in front of an absolutley packed to the gills SNWMF Valley stage crowd. The music was not over however we finished up our Saturday reggae marathon session with Father Downbeat in the dancehall. He has specials that no one else has and is certainly proud to tell the stories behind them. You get a lesson in sound system history listening to Downbeats selections
DOWNBEAT
Sunday was a very big day for my wife and I as one of the main reasons we came all the way to California this year was to see our friend Keith Rowe of Keith & Tex perform. So on Sunday morning at 11 am we were ready to Stop That Train with Keith & Tex. They were a highly anticipated act for many and the duo did not disappoint. Keith and Tex did almost an hour set playing their hits and telling stories of their Derrick Harriot days. My wife and I also ended up selling close to 70 Keith Tex cds that Keith had recently remastered. They probably signed the majority of them for the adoring crowd. What a Start to Sunday!
KEITH & TEX
MY WIFE SELLING CDs
Errol Dunkley was up right after Keith & Tex and Mr Dunkley was smooth as silk playing all his hits and then some including a tribute to Sugar Minott and Gregory Isaacs. Errol Dunkley has a great stage presence and certainly knows how to entertain a crowd.
ERROL DUNKLEY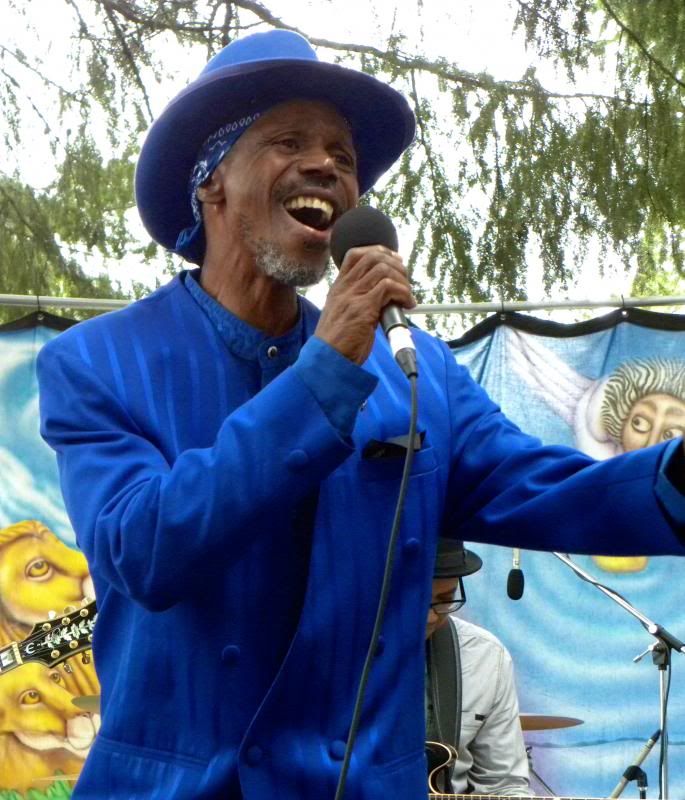 After that morning oldies session it was back to the valley Stage for more Hollie Cook, this time with a band and another reggae legend Leroy Sibbles. Sibbles played alot of the Heptones hits and even played bass while boasting about all the classic riddims he has created without financial gain. He did it in tongue in cheek manner as it did not come off bitter at all.
HOLLIE COOK SUNDAY
LEROY SIBBLES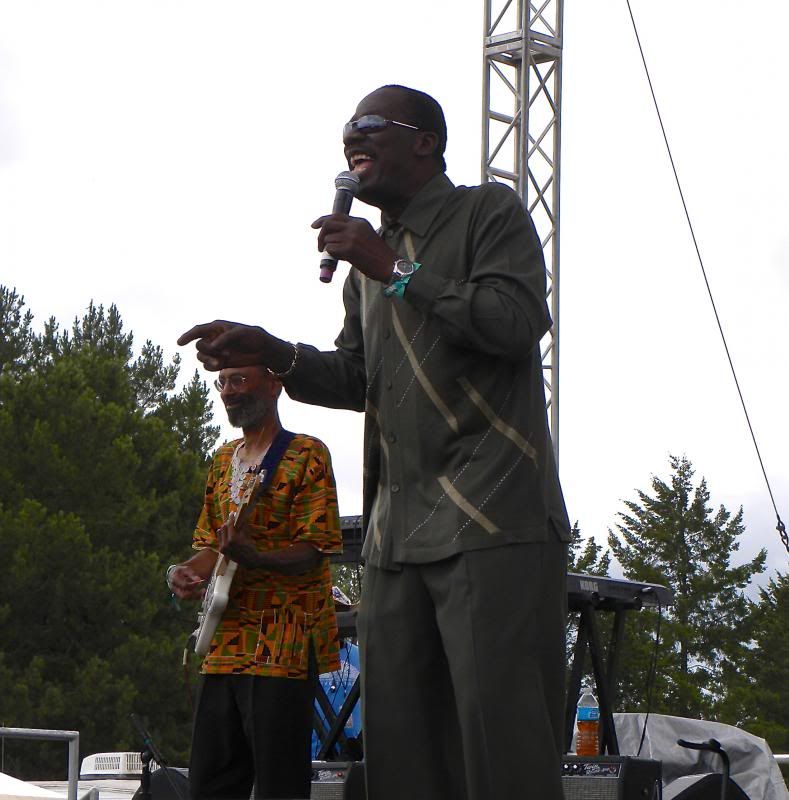 As Reggae overload was setting in an hour break or so shopping and eating was needed to take us through the homestretch. It was back to the Village Stage for Abja and The Lions Of Kush who performed an early Sunday evening set of cool and grooving Virgin Island reggae. It was just what this soul needed at that time.
ABJA
To pump us back up SNWMF gave us straight out of England Gappy Ranks. His set was high energy and fast paced. I forgot how many of his songs I like and his set really caught me by surprise. Protoje also joined him on stage for one song.
GAPPY RANKS
GAPPY & PROTOJE
After Gappy Ranks it was a mad dash back to the Valley Stage for the festivals closer Alpha Blondy.
He kicked it off his set with Jerusalem and proceded to play for over an hour to a very appreciative crowd who were skankin and grooving to every last drop of music they could wring out of this years SNWMF
ALPHA BLONDY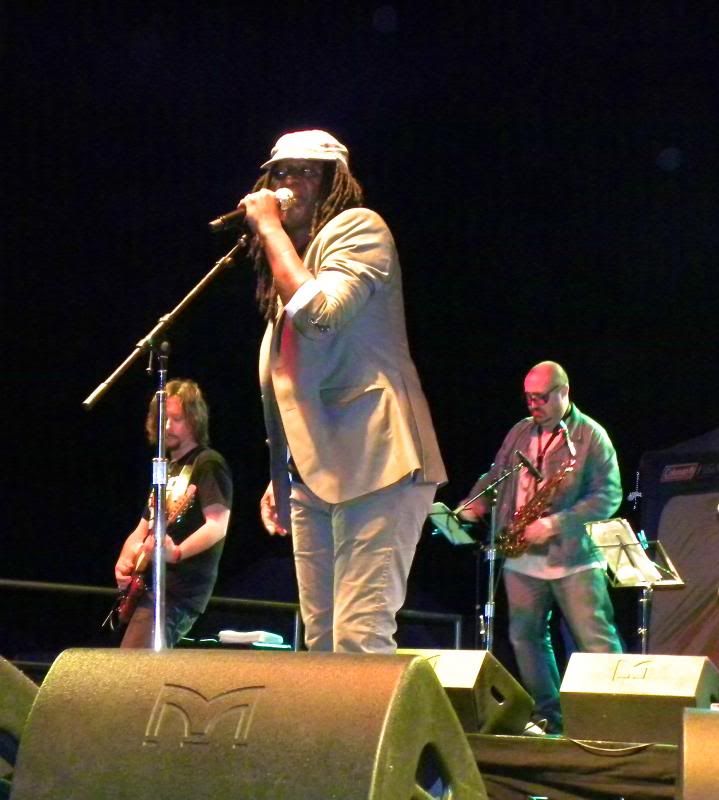 On a side note from all of the great music going on, what adds to the Sierra Nevada World Music Festival is being among all of the like minded folks who love, live, and breathe reggae music everyday. No matter if you were a singer, a player of instrument, press, a DJ, or a fan, for 3 days at SNWMF we all come together in the name of One Love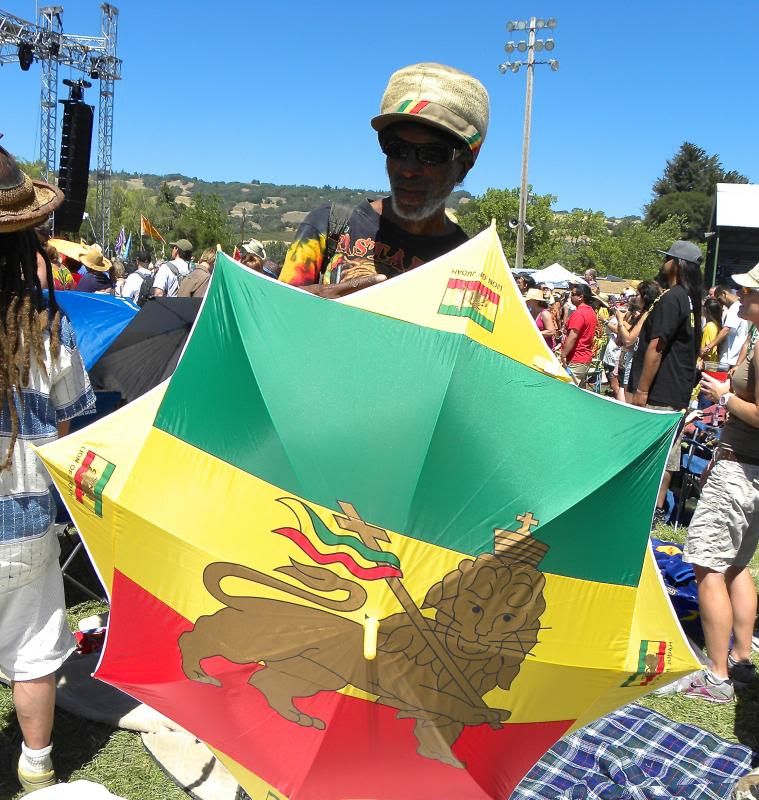 More sights and sounds of SNWMF 2013:
IQULAH
ROCKY BAILEY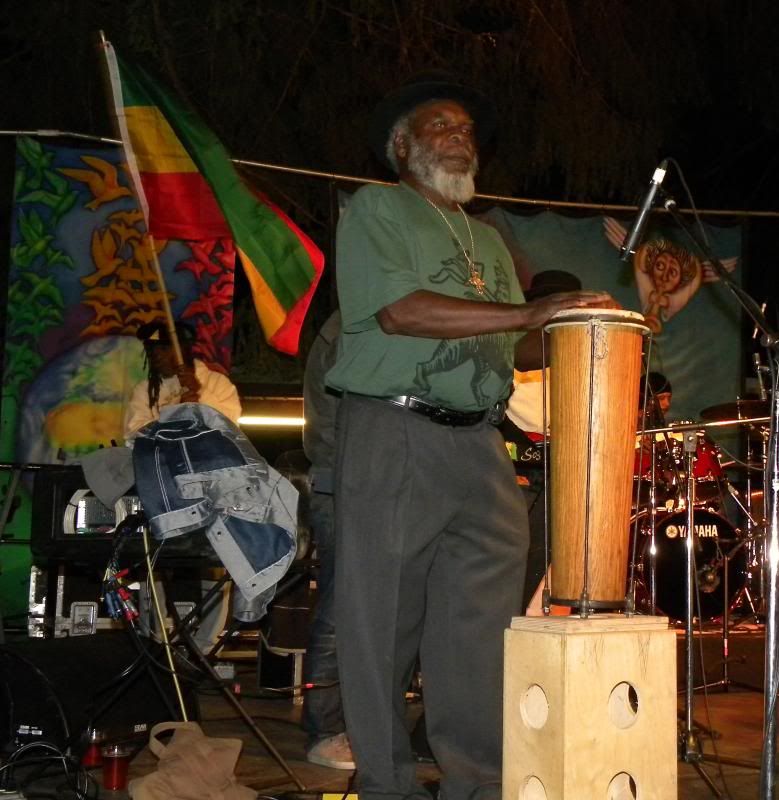 FLAGS FLOWN PROUDLY
TEX FROM KEITH & TEX ON A RAIL
ERROL DUNKLEY HANGING WITH KEITH & TEX
MARCIA GRIFFITHS WAITS TO TAKE THE STAGE
DOCTOR DREAD OF RAS RECORDS FAME IN HIS NEW VENTURE PREPARING JERK STYLE POTATO CHIPS
MORE ERROL DUNKLEY
CART FULL OF DRUMS